Tent Buying Guide
Hello and welcome! If you're looking for relevent information and advice on buying tents, then then this tent buying guide is for you.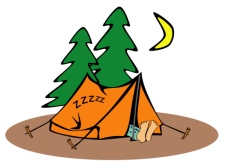 There's nothing quite like being out in God's creation, enjoying the weather, the scenery, and the fresh air. And one of the best ways to experience the great outdoors is to be as close to it as possible... in a tent.
But the question is, which kind of tent is best? Well, that all depends on your situation. For the independent adventurer, a one or two person tent may be best. On the other hand, a large family may want an 8 man tent, or two tents (one for the parents, and another for the children).
There are other factors that come into play, too. Will the tent be in a campground, where a bathroom, showerhouse, and other such conveniences are offered? Or will you need a privacy tent for using the restroom, or a shower tent for keeping clean?
If you own a pickup truck, a truck camping tent may be a better option for you. As you can see, the possibilities are many. So go ahead and browse this tent buying guide website, and let your creative juices flow. Happy browsing, and happy camping!